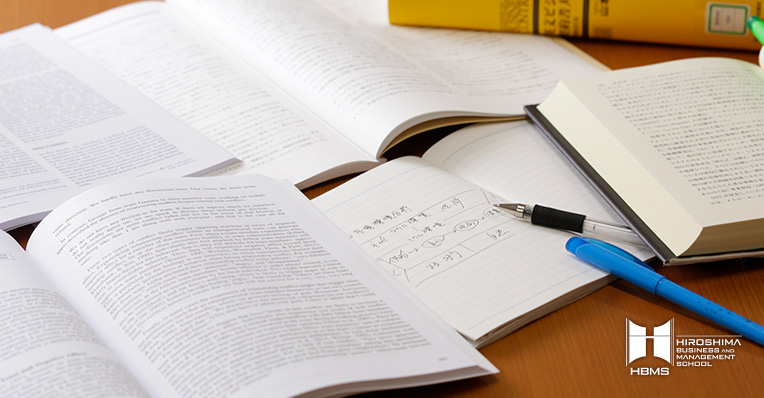 Education system for producing business leaders
Curriculum Structure and Features
Two-Year Education System
Basic Courses
Basic courses such as Strategic Management, Marketing, and Human Resource Management etc. are taught. Lectures as well as frequent discussions wiill be provided in order to learn useful business skills.
Advanced Courses
Courses aim at deepening basic understanding, and enhancing abilities in order to successfully realize the start of new businesses, the creation of innovation, the succession and development of businesses, and the enhancement of management skills. The introduction of frequent group work allows for the application of insights from different perspectives and points of view.
Specialized Courses
There are three new fields: Resource Management, Healthcare Management, and Commons Management. In addition, an ad-hoc Special Theme has been established to keep up with the speed of consecutive social changes, not only in terms of an individual company, but also for regions and communities to cultivate management skills while taking advantage of diversity.
Regional Resource Management
Regional Natural Resource Management including Agriculture, Forestry and Fisheries.
Healthcare Management
Sustainable Medical and Long-term Care Management for the Diverse Needs of People
Commons Management
Commons Management Including Sharing through the Internet
Special Theme
The Theme of Specialized and Emerging Business Management of Modern Times
Practical Courses
We enhance embodiment and accomplishment, which are key abilities of creating a new business. Feasiblity studies of the business planc are verified throught field work with the cooperation and collaboration of local companies and institutions.
Course List
Four different course categories have been established to develop practical education
Course List for 2018
37 subjects 74 credits (17 subjects and 34 credits are required for completion) * Subjects in the red frames are required subjects.
Category
Courses
Credits required for master course completion
Basic Courses(10 Courses)

(Credits required for master course completion 18)

18 credits
Advanced Courses(9 Courses)
Specialized Courses(14 Courses)

(Credits required for master course completion 8)

Regional Resource Management

8 credits

Healthcare Management

Commons Management

Special Theme

Practical Courses(4 Courses)

(Credits required for master course completion 8)

8 credits
*This information is current as of the end of June 2017, but is subject to change in the future.
Class Schedules and Learning Environment
The Quarter System provides a high-quality learning environment suitable for students with career experience.
Lectures are for two periods from 6:30 p.m. to 9:30 p.m. on weekdays and six periods from 9:00 a.m. to 7:30 p.m. on Saturdays.
One class unit consists of two consecutive periods (90 min. x 2).
Our curriculum is based on the Quarter System. One course is completed in eight weeks (including examinations).
We offer intensive courses during weekends in Summer and Spring.