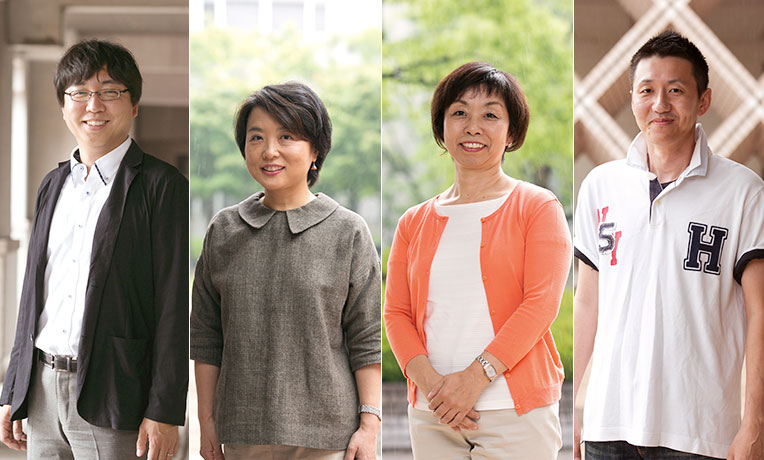 Learn More, Encounter More People, and Take on More Challenges
Interviews with Sophomore Students
I want to use my knowledge to revitalize my hometown.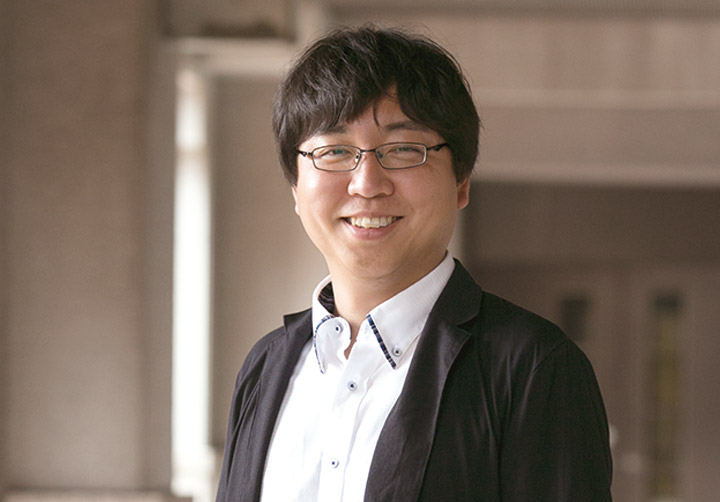 Mr.Hiroyuki Fukumoto
Takehara Sousai Co., Ltd.
Iine Takehara Inc.
Eight years ago, I returned to my hometown in Hiroshima Prefecture because my father passed away, leaving a family business of funeral services. I had been very busy rebuilding the family business over the subsequent few years, but just when it got on the right track, I heard the news of HBMS's opening. I felt something more than a mere coincidence in this fact and decided to enroll in the business school. I feel strongly that my family business is supported by the local community. So I am particularly interested in the vitalization of local communities, which is one of the themes at HBMS.
Whereas many other business schools focus their research themes on issues related to large companies, HBMS sheds light on small and medium-sized companies, as well as local communities. This approach fits what I need precisely. The small class system is also effective in fostering friendships and a sense of unity among students. I have found it very helpful to hear my classmates' comments on my views and ideas from viewpoints that are different from mine.
Besides my main business, I am currently involved in a company dealing in community development. I am hoping that I can maintain and further develop relationships with my classmates and faculty members even after graduation. I hope I can continue to collaborate with them for a long time.
Practical classes featuring in-depth studies of ways of thinking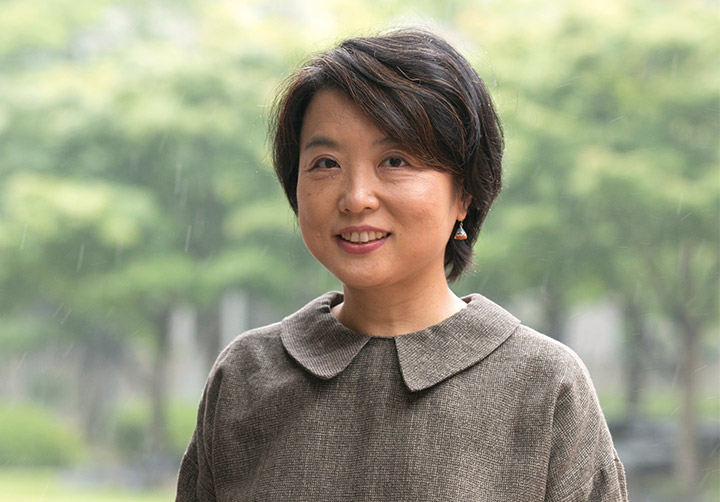 Ms.Hiroe Fujiwara
Shin-Hiroshima Telecasting Co.,LTD (TSS)
When I was transferred from the News Department to the Management & Administration Department in a broadcasting company, I found that I had virtually no knowledge about corporate structures.
At first, I expected to learn specialized knowledge on a full scale. However, we learned the basic approach and methodology of studies during the freshman year. As I have become a sophomore, I now study specialized subjects. I think I can understand them well, probably because I learned the basics thoroughly during my first year. Ironically, however, as I gain more and more knowledge, my future vision has become less and less clear (laughs).
If you are wondering whether or not to enroll in HBMS, I encourage you to take on the challenge. You don't have to worry. I assure you that you will find the school interesting and enjoyable. Moreover, you'll be given a valuable opportunity in your life to meet many people and engage in discussions.
The best opportunity to analyze your tasks theoretically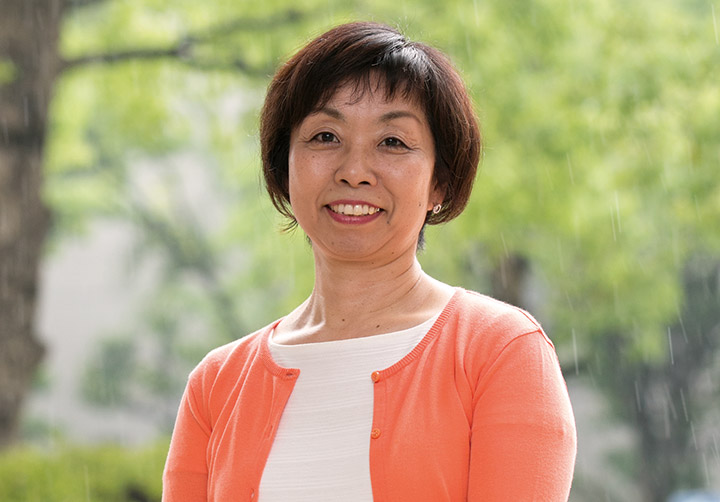 Ms.Keiko Sumida
I have been supporting businesspersons intending to start their own businesses. Having been involved in this task, I often felt the lack of my own knowledge, since during my university days there was no information technology or any of the other cutting-edge technologies we see now. I decided to enter HBMS because I wanted to study again.
Hearing my decision to enter HBMS, my mentor at university said, "It will be a wonderful opportunity to review your business experiences theoretically." I believe that joining HBMS has provided me with an exceptional opportunity to review my career and consider future plans.
It is inspiring to join discussions with classmates who have diverse careers and business backgrounds. Recently, I began to review my career design. I am surprised to find myself thinking this way, but this probably indicates that I am developing my own capabilities step by step.
Developing the ideal community for children's development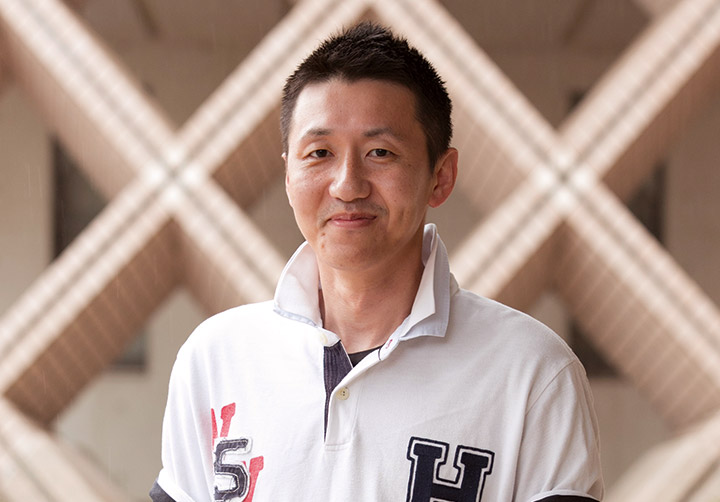 Mr.Koso Yamashiro
Fresta Co., Ltd.
I am involved in the retail business. Since this industry is very narrow, I felt it was difficult to develop my capabilities as long as I remained within the industry. I wanted to have more contact with people outside the industry and obtain information from external sources to develop my career. When I learned about HBMS from staff in the personnel section, I decided to take the entrance examination without a second thought.
Before enrollment, I thought that we would have academic, rather than practical classes, where we would learn business frameworks and various items of knowledge. After attending classes, however, I have found more fieldwork is involved in the curriculum than I thought. I have also found that many classes focus on regional issues, which are very interesting.
At present, everything changes rapidly. By leveraging what I learn here, I hope to adapt myself to the changing environment with greater flexibility. In the future, I want to use the knowledge and skills I learn here to contribute to the development of my hometown in Hiroshima. Above all, I want to work to create a community that ensures the sound development of children.
Group Interview with Freshmen
At the end of the first quarter, freshman students eagerly discussed the reasons they enrolled, impressions of HBMS, and future visions. (Facilitator: Professor Hiroko Hyakutake, Head of Department)

Mr.Yasuaki Takesue
Medical Corporation JR Hiroshima Hospital

Ms.Yuri Shigematsu
Yamanemokuzai Remodeling Co.,Ltd.

Mr.Tasuku Suzuki
Twocells Co.,Ltd.

Ms.Machiko Murakami
Ascon Co., Ltd.
"You Cannot Learn Something Important from Books."
You Could Have More Ambition in Your Life!
Professor Hyakutake
Please tell me what has made you decide to enroll in HBMS.
Mr.Takesue
Since I work at a hospital, I am interested in medical welfare and I want to study welfare management. At HBMS, I hope to learn how to improve hospital management and develop related skills.
Ms.Shigematsu
I work for a local housing manufacturer. At HBMS, I want to study basic subjects, such as management strategies, business leadership, and marketing. Through studying these subjects, I want to learn the criteria that management use to make decisions.
Mr.Suzuki
I am involved in the development of products for regeneration medicine at an R&D-oriented venture company. I want to study venture management, as well as business administration in general.
Ms.Murakami
My job is to support retailers and publish local magazines. When I happened to hear a female professor at HBMS say, "You could have more ambition in your life," I felt as if her words had opened a heavy door in my life. At HBMS, I want to study business administration, management, and marketing.
Mr.Suzuki
In my case, it was a male professor (laughs) who introduced HBMS to me. I thought that by studying here, I would become able to analyze the instructions of my boss more systematically. After learning marketing, for example, I began to understand the reason for many of the decisions my boss makes. Studying at this business school will not only help me; it will also help my colleagues and subordinates, since I can share with them what I have learned here.
Ms.Shigematsu
I am interested in business administration. At university, I majored in economics, but I did not study business administration. One more reason for enrolling in HBMS is that I am a couch potato. I challenged myself to join this school to force myself to join discussions. I love discussion, but I don't like a kind of study that simply forces me to memorize facts (laughs).
---
I Regret that I Didn't Spend My Time Wisely.
Professor Hyakutake
Three months have passed since you entered the university. What are your impressions of HBMS?
Ms.Shigematsu
I feel contented, because I am doing what I want to.
Mr.Suzuki
I have to spend much more time on my assignments than I thought.
Ms.Shigematsu
I changed my approach to time management. I regret that I wasted so much time doing nothing. I should have spent my time more wisely.
Mr.Takesue
I desperately need more time. Yet, I somehow manage to complete assignments. After entering HBMS, I changed the way I use my time. So far, this is the greatest impact HBMS has had on my life.
Mr.Suzuki
I believe that we are supposed to prepare the foundation for the two-year study program.
Ms.Shigematsu
I feel that I am absorbing so much knowledge, something that I can never gain from books alone.
Ms.Murakami
Classes are not easy, but I am determined to study hard throughout my time at HBMS. It's encouraging to have colleagues to study with.
Mr.Takesue
I want to expand my human networks and deepen myself. It's great to have opportunities to listen to the views of people from different industries.
Professor Hyakutake
To tell the truth, we faculty members are also learning a lot from you, since you have diverse business careers. I believe one of the attractive features of HBMS is that it allows both students and faculty members to develop their capabilities through friendly competition.
---
To Become a Leader in Your Present Company, or Start Up Your Own Business?
Professor Hyakutake
Will you tell me about your vision of the future?
Ms.Shigematsu
I want to set definite goals for my life in these two years. At present, I only have a vague picture of my future. I want to make it clear.
Ms.Suzuki
I want to help develop my company, while maintaining its policy of continuing innovation as a venture company. The knowledge I am gaining here is important for these ends. After achieving my goal, I will consider my options: start up a new venture of my own, or continue to work in my present company as a manager. Whichever option I choose, I know I will enjoy my work.
Mr.Takesue
My immediate goal is to stabilize the management in my present workplace. To this end, I will study hard here and develop my knowledge and skills in personnel management.
Ms.Murakami
I want to find out something that only I can achieve. It's fantastic if can make others happy by fulfilling that task, I mean people including my teammates, clients, family, and friends.
Professor Hyakutake
Every day, I consider how we can offer students opportunities to create new value. I am seeking ideal programs and ways to run classes that will enable my students to voluntarily create new value. Taking this approach, I hope to support your efforts to achieve your respective goals.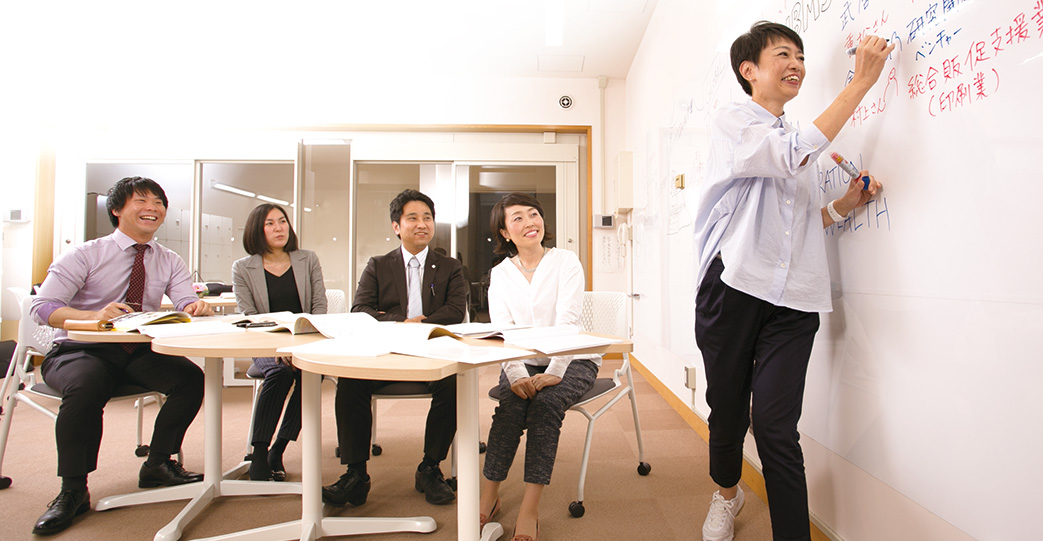 Messages from Corporations
Meiwakai Medical Corporation
Onoura Hospital
Chairman
Takamasa Kubo
We decided to dispatch a staff member to the business school after holding a seminar with Governor Yuzaki of Hiroshima Prefecture as a guest lecturer. During his lecture, the Governor stated that unlike conventional business schools, HBMS has programs focusing on the needs of small and medium-sized companies, medical and care service facilities, and agriculture. He explained that HBMS has a system to produce future leaders who can take the initiative in responding to radical changes in society. Shortly after the seminar, one employee expressed their ambition to enroll in the MBA program. We decided to approve their decision, in consideration of the excellent curriculums at HBMS, as well as that person's enthusiasm. We also hope that developing their capabilities will also promote the growth of our organization.
We urgently need a new business model that will meet the emerging needs of our changing environment, influenced by changes in social structures, as well as the progress in technologies, such as the Internet of Things (IoT), virtual reality, and artificial intelligence.
In this context, I hope that the employee in question will study changes in our business environment in detail and develop their ability to suggest effective ways of regional development based on a long-term perspective. I also hope that they will become an excellent manager.